The cutting edge
Jun 22, 2017 01:23PM ● Published by J. Chambless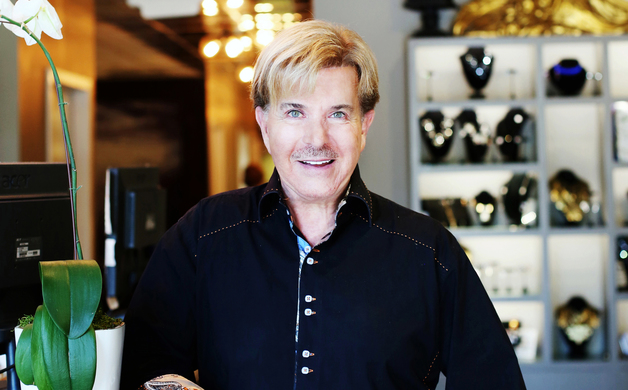 Michael Christopher: 'I don't want to retire. I'm having a blast.' (Photo by Jie Deng)
By Pam George Staff Writer
When the news broke that a developer planned to raze the Galleria Shoppes on Pennsylvania Avenue in Wilmington, many Greenville-area women – and more than a few men – panicked. Michael Christopher Salon & Day Spa had been a fixture there for 37 years. Construction on the new mixed-use building on the site was expected to take up to two years. What would they do?
Owner Michael C. Hemphill mulled that over. "My knee-jerk reaction was to leave and come back in two years," he said. "But two years could become three, depending on how long the building takes, and I thought, 'Michael, that's insanity. If you can find something better, then move on.'"
Retirement was never an option. "I don't want to retire," he said. "I wouldn't be a good retiree at all. I work three days a week, I sell on QVC – I'm having a blast."
He began searching for new digs within a two-mile radius of the Pennsylvania Avenue salon. Pettinaro invited him to tour the developer's Montchanin Corporate Center, which is tucked just off Route 100 where it meets routes 52 and 141. The brick structure had once housed Columbia Gas and then MBNA.
Hemphill was impressed with the well-manicured campus and stately facade. "I said, 'Oh, my God, this is like a sanctuary – it's fabulous. I love the approach and where it's located."
He wasn't concerned that it lacked the visibility of the Pennsylvania Avenue site. After all, Michael Christopher Salon & Day Spa is established. Hemphill has been a guest on local TV shows as well as "The Today Show" and "Good Morning America." In the Wilmington area, he's a household word.
But the building also presented drawbacks, namely generic corridors leading to traditional office spaces. Then Hemphill spotted a four-bay garage in the back of the building. The broker discouraged him. Hemphill, however, immediately saw the possibilities, a skill he developed as a stylist.
"In five minutes, I have to figure out how tall the clients are, how much they weigh, how long is the neck, how short is the nose, what kind of hair they have – is it curly or straight, and are there any cowlicks? – and what can they handle," he explained.
His snap judgment was on target. The new salon, which opened in April, has not missed a beat. In fact, he's gained new customers thanks to the site's accessibility and the plentiful parking.
Hemphill is clearly not one to spot an opportunity and promote it. "His vision is the secret to his success," said Rebecca Barry, the education director and manager of the Wilmington salon, who has been with Hemphill for 32 years. "He has the ability to see what others can't, and he's proved that with reinvention of the salon."
To be sure, the Kennett Square native became a master at branding long before that term entered the marketing lexicon.
Beauty is in the blood
It helped that Hemphill knew what he wanted to do from a young age. He grew up in the industry. His father, Clifford, owned two salons four blocks from each other. (Both were named Clifford's Hair Fashions.) His mother worked the front desk.
After school, Hemphill headed to the salon to do his homework and watch the stylists. "They had cigarettes hanging out of their mouths, ashes falling off, and there was all this hair spray. It was crazy," he recalled. "If you've ever put a match to a can of hair spray, it's like a blow torch."
When he finished his homework, he entertained himself by styling the hair on a mannequin. "I enjoyed it; it came easy," he said. By age 14, he was riding his bike to neighbors' houses with a briefcase full of curlers and stale beer (a makeshift product that produced a stiff effect). The ladies had their hairdryers ready, and he set their hair for a few dollars.
Because he was too young to enroll in local hairdressing schools, he talked his parents into letting him attend an 18-month program in Toronto that accepted young teens. "It was very fancy," he said. "Teachers came in with big hats and mink coats. That's all I needed to see; I thought it was very glamorous." He stayed with a retired schoolteacher, who helped him keep on top of his regular curriculum.
Back home at 16, he became an apprentice at his father's salon and accumulated the hours that he needed to get his license at vo-tech school. When he was 17, his father died. His mother, who had four children at home, shouldered the salon on her own with Hemphill's help. He is the only child who entered the family business. By law, she had to go to hair school to own the salon, which he ran when she was in classes.
At 20, he wanted to open another spot in downtown Wilmington, but his mother was reluctant to take on the additional risk. In 1975, he opened his own shop above a bar on the second floor of a city building. In 1980, the salon moved to Pennsylvania Avenue.
Hairstylist to celebrities and Dela-brities
The rise of Michael Christopher Salon coincided with the age of the celebrity hairstylist. Picture Vidal Sassoon, who gave Mia Farrow her trademark pixie cut. In the 1980s, there was nothing quite like Michael Christopher in Delaware, and actresses who came into town to perform at The Playhouse called the salon for services.
In addition to serving high-profile clients, celebrities like Sassoon also created a line of hair care products. Hemphill did the same. It's a practical move, as well as a business opportunity. Proprietary products give him control in an age when conglomerates are gobbling up smaller companies in the hair care industry. After a merger, formulas might change, and some products are discontinued. The shampoos and conditioners are also subtle reminders that clients might need to schedule a cut and color. "It's like having a billboard in the bathroom," he said.
In the days before YouTube, Hemphill created a how-to VHS series on blow-drying, and packaged it with products. The kit was a hit on West Chester-based QVC.
Hemphill has continued his relationship with the shopping channel, and a newer product, Erase, is a big seller. The product was inspired by a client with stubborn hair spray residue. No matter what he did, Hemphill could not remove the buildup. He learned that baking soda, mixed with shampoo, could do the trick. He worked with a California lab to develop a ready-to-use, branded product.
Over the years, Hemphill has not been afraid to push the envelope and try new things. It's a lesson he learned in the early 1980s from the late John Rollins, who was born on a farm in rural Georgia and became a Delaware-based entrepreneur with interests in automobile and truck leasing, exterminating, media, harness racing and the hospitality industry.
"I always go to the top person for advice," Hemphill said. "That's where the buck stops. People at the top love to share."
Hemphill asked Rollins what he needed to do to grow his business. Rollins told him, "If you don't get close to bankruptcy at least once, you'll never make it." To get off the fence and explore growth takes money, he said.
Rollins was right. Michael Christopher opened in the Bloomingdale's store in King of Prussia and in Pike Creek. Hemphill, at one time, wanted to be in every Bloomingdale's location. Then he experienced the reality of managing a site in Florida. The department store's financial woes and the decision to split with his partner in Pike Creek prompted Hemphill to scale back to the one location.
New beginnings
As of April, that location is that much closer to Greenville, where many of his clients live.
The new salon was designed to meet modern expectations and industry trends. "The pendulum swings every 10 years," said Hemphill, who frequently renovated the old salon.
Signs on the Montchanin campus direct customers to the back of the building and to the incline leading to the old garage, whose doors have become windows. Out front, there's a courtyard-like setting that resembles the rooftop of a posh New York City penthouse. You can almost picture Carrie and her "Sex & the City" pals lounging in the area, which features potted hibiscus, waist-high planters with lush plants, and outdoor wicker chairs.
Once inside, customers can power up laptops and iPads at the computer bar and grab a cappuccino from the self-serve machine, or wine from the beverage fridge. Longtime clients may recognize the fire engine-red chandelier above the reception area and other pieces from the old salon.
The 16 stylists' chairs benefit from three sources of light, including the natural light that streams through the window during the day.
The mixing area for hair color is visible, much like an open kitchen in a restaurant. Clients can watch the action, which in most salons is tucked out of sight.
One task, however, is offered in a quieter environment. Since many love the luxury of a lengthy shampoo and scalp massage, the shampoo chairs are sequestered in an area that links to the day spa section of the salon. While they enjoy the suds, they can gaze at the shelves of handbags and hair accessories.
The days of the mega salon and day spas have given way to more specialized and personalized services. Clients don稚 have a day to devote to pampering. But they do want quick-hit routine services, such as manicures, facials and waxing. The salon has three treatment rooms, one of which has a shower. There痴 also a pedicure room.
"We're more condensed," said Rhonda Hutchinson, administrative assistant, who's been working with Hemphill since 1978. "The atmosphere is so relaxing from the moment you turn into the drive."
Hemphill said that customers have been pleased with the move. Some have been with Hemphill since he first started at Clifford's so long ago. Celebrating more than four decades in the industry, he's styled mothers, daughters and granddaughters.
And more are on the way. Recently, an 8-year-old approached Hemphill to ask if he was Michael Christopher. He said yes. "Wow!" she marveled.
Hemphill smiled and told himself, "My brand is good for another 15 years!"
To contact Staff Writer Pam George, email delwriter@gmail.com.